I'd noticed a lot of people on twitter using the hashtag #poundlandpegagogy recently and enjoyed reading their tweets about using pound shop items creatively in class to improve learning outcomes.
I wanted to give it a go myself, so armed with a few quid I headed to Wilko (it's next door to my flat and the pound shop is a long way off!) and bought a lot of play paper. Play paper is that incredibly thin, cheap paper that comes on a massive roll that you give toddlers to scribble all over. You can get about 20 foot of the stuff for a pound in Wilko – bargain.
Obviously as its Term 5 we are revising heavily and the play paper has come in a treat to produce timelines either as a starter or as a way of consolidating knowledge.
For Year 12 I stretched out about 15 foot of the stuff on one wall and told them to shout out events of 1917. After 5 minutes with some fat felt tips (also from Wilko – I promise they don't sponsor me) we produced this: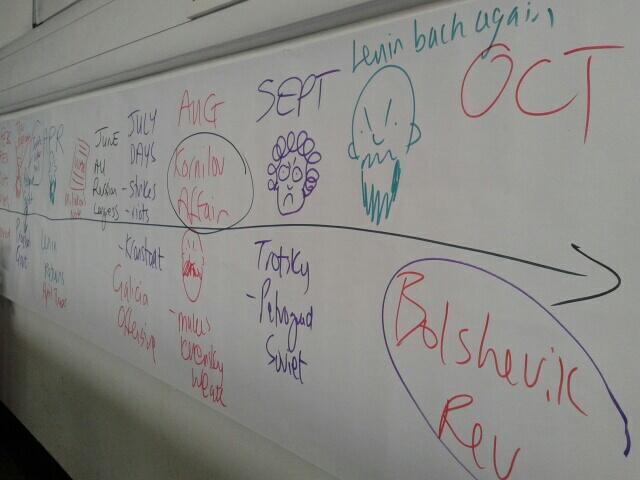 It was a neat way of revising the content and this then was used as the foundation for the rest of the lesson where I could refer to the narrative and talk about turning points and the relative significance of the events. Brill.
This has now been fixed to the wall and Year 13 came in for their lesson and complained that "we never get to do anything like that!" So out came the paper again. I stretched out another 10 foot and together we did a timeline for the USSR in the 1980s: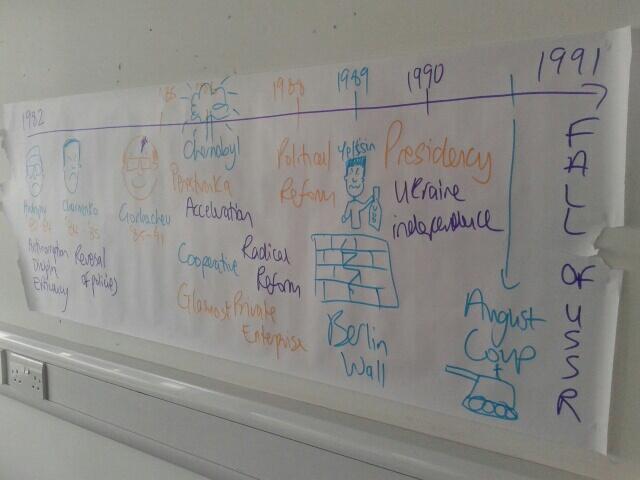 Pleased with these results I've also given over the paper to the students as well. Revising Elizabeth with my other Year 13 group I gave out 4 foot segments and each group had to make a cartoon representing Elizabeth in 1571 covering political, religious and foreign policy aspects. Again this worked a treat.
In Year 10 we are studying Bristol Docks for our controlled assessment. I'd done all the content and wanted to consolidate the narrative so out came the play paper again. At the end of the lesson we put all the tables together and stretched out an entire 20 foot roll. All the students were given a felt tip and stood along the roll. I then told them they had 6 minutes to work as an entire class team to produce an annotated timeline. The result was chaos with shouting, gesticulating and insults but the end product was ace and is now proudly on the wall of my classroom. It's been fascinating in future lessons to see the number of students who have been referring to it.
I guess students like the nostalgia of big paper as it reminds them of being in primary school or being a kid. They also like it as it seems silly to them and is fun. But silliness does not equate to poor learning and with some forethought I hope you've seen above that some neat and very easy learning sequences can be planned.